Social Media Integration
Social Media has taken the Internet by storm and FSA is proud to be able to integrate with many of the social media websites at various levels.
Facebook and Twitter are social media powerhouses that are growing exponentially by the month. If you've got a Social Media account, we can add an active widget on your website that shows your latest posts or tweets.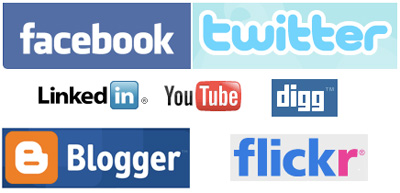 Facebook Connect lets your users leave comments on your website using their Facebook credentials. Usually, Facebook will tell their friends that they left a message on your website and this helps spread the word about your blog.
LinkedIn, YouTube, Digg, Squidoo, del.icio.us, slideshare, and flickr also supported.
Today's business world recognizes social media as an interactive marketing tool. With ongoing developments in motion, it can be difficult to stay updated on social media and to actively and strategically choose your company's involvement. When managed properly, social media improves response rates and leverages an extensive return on your investment.
At FSA, we offer our expertise on which social media portals are best for your company as well as optimize your presence online by using the correct tools. FSA can create and manage accounts, as well as interface with your social media contacts.
FSA Social Media Services
¤ Account Initiation, Setup and Optimization
¤ Branding
¤ Community Management
¤ Social Media Consulting / Social Technographics
¤ Social Media Monitoring
Social Media serves as a hub of business communication and development. It is a growth arena that is delivering more exciting results every day. Social media is maturing to become a sophisticated way to keep your name/brand on the tip of everyone's tongue, and achieving far reaching marketing goals.
Benefits of Social Media Campaign

¤ Broaden Client Base
¤ Client Interaction
¤ Advertising
¤ Consumer Conversion
¤ Client Retention
¤ Company Image
¤ Media Expansion
¤ Overall Communication
We've given you some of the basics, now get the details!
Skype us