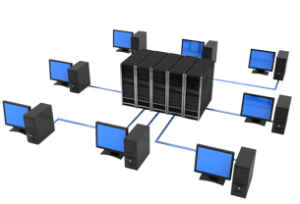 FSA provides Advancement Network Services, develops and implements technology solutions for supporting all business processes, and can help with "Greening" your systems and office environment. Corporate, Public, and Private sectors covered. We do Scheduled and Emergency On-site and Remote Support acting as your organization's IT Department. There is minimal need for the majority of smaller commercial or non-profit ventures to try and employ a full-time IT Staff. FSA can take the hard work on, and leave your company or organization more time to devote to your primary mission.

Capabilities:
Network Creation (Wired and Wireless)
Network Security (Wired and Wireless)
Network administration (including backup, security management, user account management, e-mail systems including e-mail web server, internet access, office systems and applications support).
Supports server, network and desktop hardware, software and applications.
Performs technology needs analysis.
Rolls out hardware and software to ensure optimal deployment of resources.
Plans, implements, and supports the network and computing infrastructure plan.
Manages small to medium sized projects according to agreed upon budgets and schedules.
Assists with technology planning through ongoing research.
Secure, Reliable , Fast & Flexible Network solutions.
Businesses depend on rapid access to information in order to remain competitive in today's global marketplace. FSA helps you forget about your critical data networks by providing an infrastructure that is fast, reliable, secure, and flexible. We design network solutions which scale to meet your needs as your business grows in size and complexity.
FSA provides you with quality equipment that we install and maintain. We also offer continual preventative and emergency maintenance through our comprehensive service plans.
Our Network Consulting Services include:
1. Needs Assessment
Analyze existing network
Evaluate needed functionality
Evaluate needed usage
2. Network Design
Determine information flow
Determine equipment needs
Determine software needs
3. Network Implementation
Determine method equipment acquisition
Install equipment
Setup and configure equipment
4. Network Support
Preventative maintenance (system updates, backup system review, workstations checkups, virus scans, and more) to keep your systems running smoothly and prevent any costly and expensive outages.
Interoperability between software, hardware and database additions to give you piece of mind that when you upgrade, you aren't carelessly rolling the dice.
Several service plans available designed to grow with your business needs.
5. Disaster Recovery
Data recovery in case your systems fail and you need to recover some critical data. While we can't preform miracles, we can usually recover at least a portion of your data when everything seems lost.
Hardware recovery
Rapid response so that you aren't left dead in the water. We usually respond within 4 hours for critical system failures. Most issues can also be solved remotely with very little interruption.
Questions regarding further capabilities, availability, and rates:
Skype us